Train from Quy Nhon to Binh Thuan
Description
• The railway from Dieu Tri (Binh Thuan Province) station to Thap Cham (Binh Thuan Province) station is about 312 Kilometers. There are 6 trains including SE1, SE3 SE5, SE7, SE9 and SE11 (which belong to Reunification Express train) on this route. They daily depart and take about over 7 hours (From Dieu Tri to Thap Cham and return). The seat types include the hard seat, the soft seat, hard berth (6 berths in a cabin) and the sort berth (4 berths in cabin) - From Soft Seat type to Soft Berth type, all carriages and cabins are air-conditioned with the comfortable seats/berths.
Dieu Tri railway station :
Adress : 1A Dieu Tri , Quy Nhon City, Binh Dinh Province
Thap Cham railway station :
Address : 7 Phan Dinh Phung, My Hung Ward, Phan Rang Commune, Ninh Thuan Province
In Binh Thuan, you must check-in for all of these 20 attractive destinations
Cu Lao Cau
Cu Lao Cau of Phuoc The commune, Tuy Phong district, appears as a large battleship, surrounded by thousands of stones of different colors and shapes. This is an empty island, located about 10km from the nearest point of the mainland, taking the train from the mainland out about 1 hour 30 minutes. On the island there are thousands of rocks with a very unique shape, alternating with smooth green grass. It is planned to be a marine life conservation area and a very attractive marine eco-tourist destination.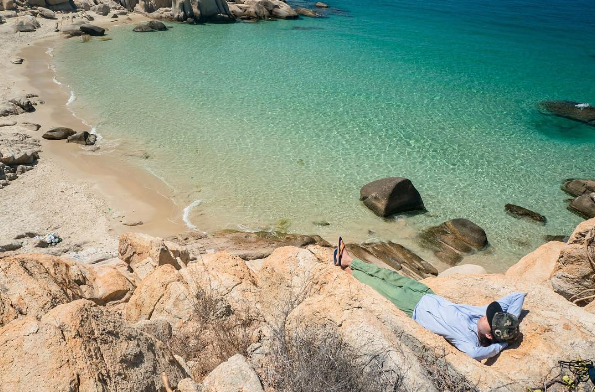 Phu Quy island
Phu Quy, also known as Cu Lao Thu, is a small island located about 120km from Phan Thiet city, your first impression when coming here is a very pristine scene and almost no touch of the Professional travel services. Perhaps that is why Phu Quy is gradually becoming a hotter name than ever in the minds of young people who love traveling. Not only attracts tourists by many beaches such as Trieu Duong Bay, Doi Dua Beach, Small Beach - Ganh Hang, Hon Tranh ... but Phu Quy also has many beautiful places for you to explore.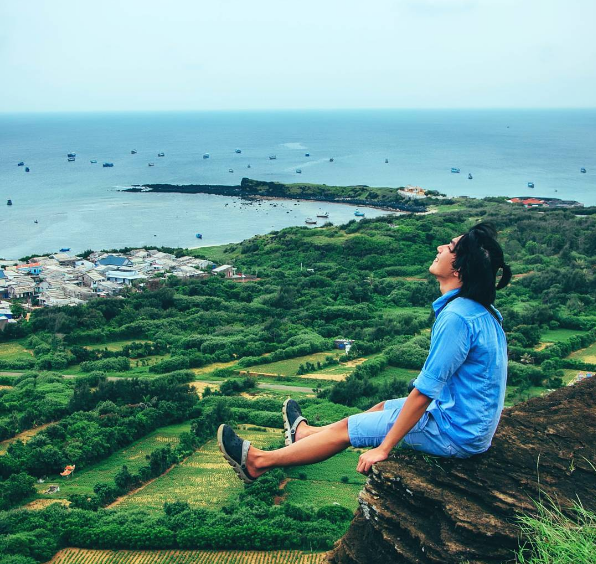 Mui Ke Ga
Ke Ga is located in Thuan Quy commune, Ham Thuan Nam district, about 30 km from Phan Thiet. If Phan Thiet is famous for beautiful beaches, long white fine sand, then Mui Ke Ga has more strange stones arranged in various shapes to create curiosity for visitors.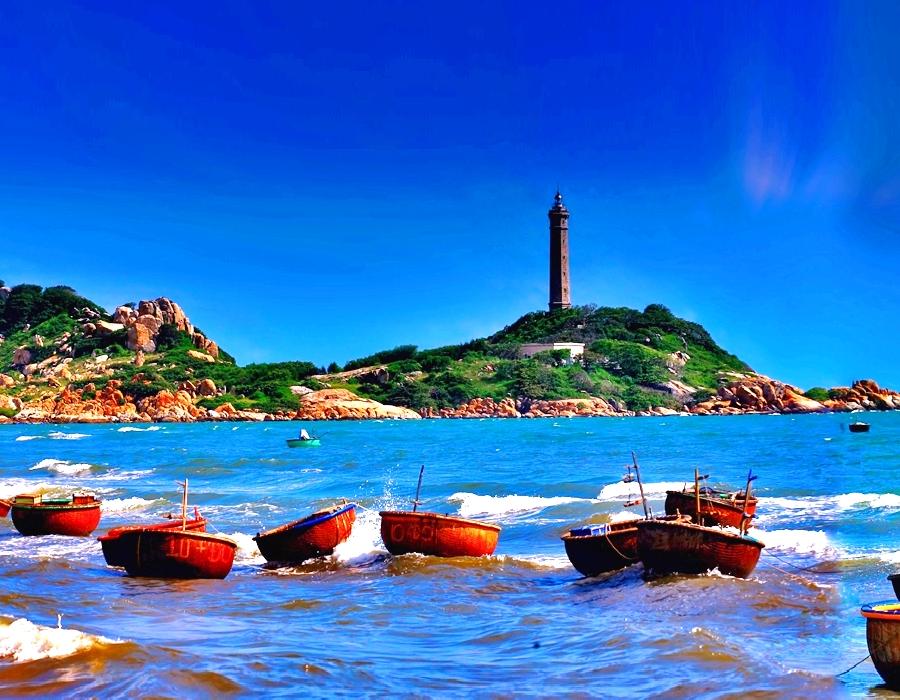 This place is not one of the familiar destinations for Vietnamese tourists because Ke Ga is still quite wild and remote, but many young people who travel to the bush prefer to come here to feel the peaceful atmosphere and visit the lighthouse. Vietnam's oldest post.
Co Thach Sea
Co Thach is located in Tuy Phong district, about 100 km from Phan Thiet. Like many "secluded" beaches in Binh Thuan, Co Thach Beach still retains its pristine beauty and clear blue water.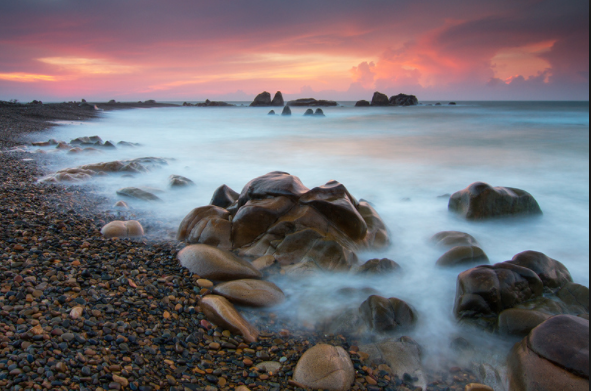 Co Thach beach is a complex of rocks and sand, with rocky beaches of many small, round, flat, colorful stones, called by locals seven colored stones. This rock is formed from nature by the influence of tides, currents and sea water. Particularly for photography people, Co Thach is the most beautiful season in March, also the "moss hunting" season. At that time, almost all the big rocks in Co Thach covered with a green moss coat, then gradually turned yellow under the bright sunlight.
Bau Trang
About 65 km from Phan Thiet to the Northeast, Bau Trang is located in Hong Lam hamlet, Hoa Thang commune, Bac Binh district. Coming here, visitors will not be surprised when climbing the high sand banks to see a lake of glittering silver under the brilliant sun, pink lotus petals looming, peeking out from the green leaves to create a poetic natural setting.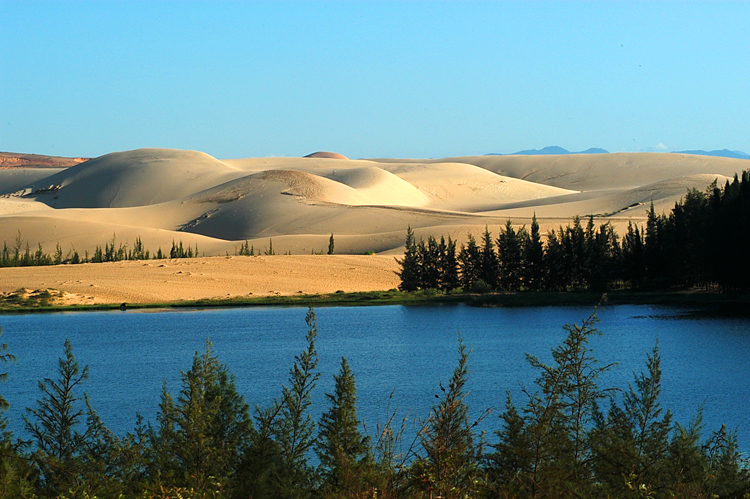 Suoi Hong (Suoi Tien)
Suoi Hong, also known as Fairy stream, is one of the famous destinations that tourists should not miss when traveling to Phan Thiet, this place is favored by tourists as "Bong Lai Tien Tien" because by the side. Streams are natural red and white stalactite hills. Due to the erosion of time, stalactites have created strange natural shapes.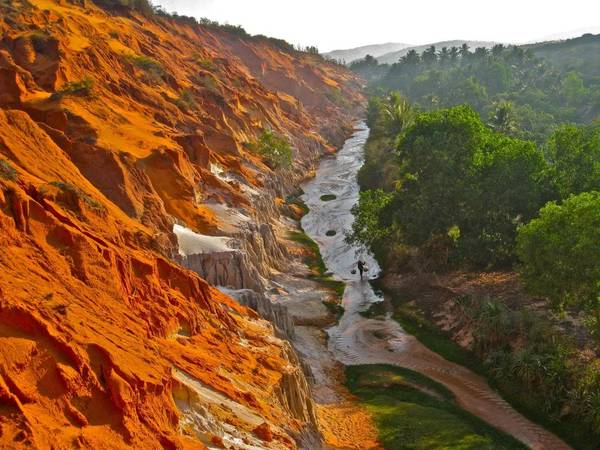 Mui Ne fishing village
Nestled quietly on Huynh Thuc Khang street and amidst the soaring coconut trees of Phan Thiet beach, Mui Ne fishing village always has a strange charm from dawn until the sun disappears. At the entrance to the village, you can witness hundreds of colorful fishing boats moored on the water. Not far from the port is a small colorful market with peaceful beauty of the surrounding coconut.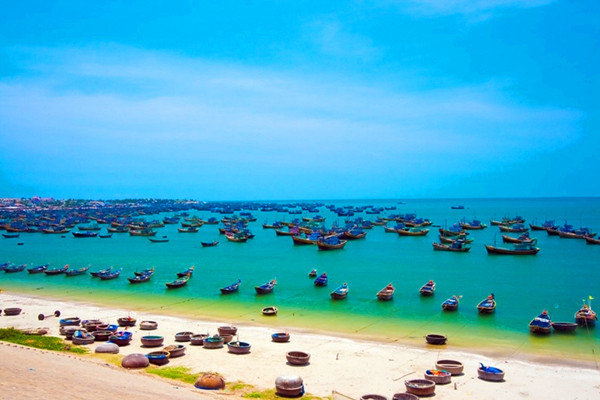 Mui Ne sand dunes
Mui Ne Sand Dunes or Bay Sand Dunes is one of the sandy beaches stretching over a wide area. Formed from a long time ago, sand here has many colors, mainly yellow, ivory white, dark red, light red ... mixed together looks very nice.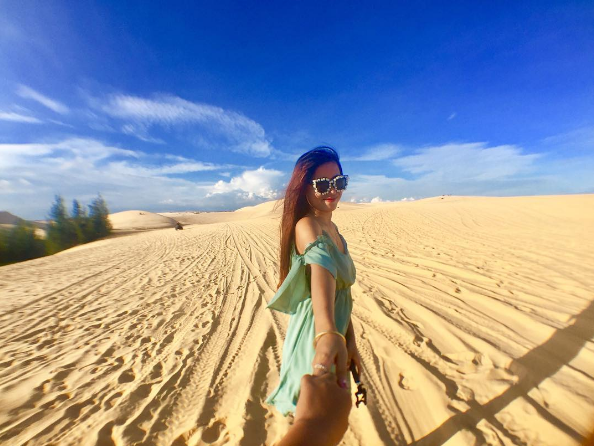 The unique feature is that after every big wind or overnight, the sand hill has a new shape. The wind creates sand dunes into countless interesting shapes. The most appropriate time to visit is in the early morning or late afternoon. You can rent a sandboard for 10,000 VND and experience the downhill sliding experience.
Mui Yen
Mui Yen is a pristine cliff, about 30m high above the sea. You can camp on this cliff to enjoy nature. In the midst of the vast sky, at the foot of the sea is the sea with strong waves hitting the large cliffs creating a majestic, beautiful scenery. Camping overnight in the nose of Yen, you will feel immersed in nature in the most perfect way. The beach here is very deserted, you can comfortably take a dip, frolic in the cool, blue water but note that there will be no fresh water bath here.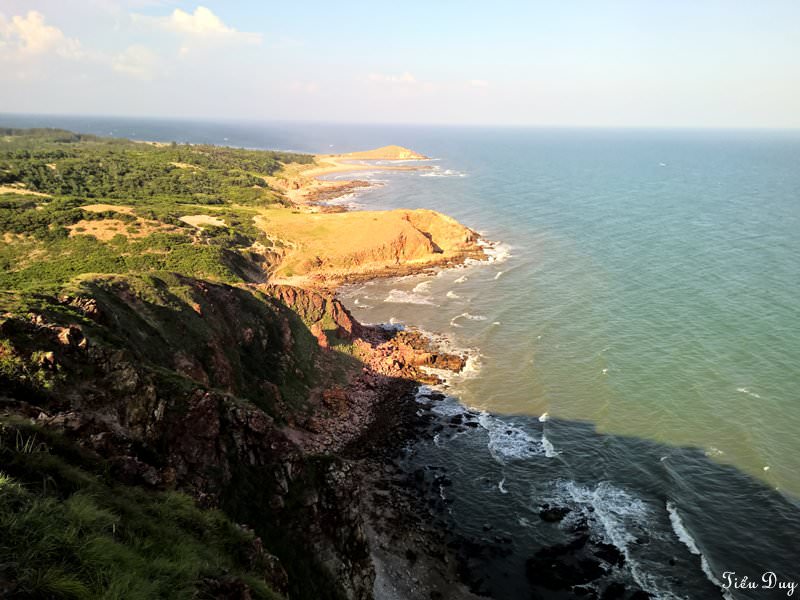 Clear moon night, calm sea, nothing is better than going down to the coastal cliffs to fish, catch and grill fish on the spot. Luckily, you will get a crawfish, a fish that lives only in coral reefs. After peeling off the bitten part outside, enjoy the meat that is chewy and delicious. Early the next morning, it would be great to enjoy the feeling of just sitting in a tent, opening the door and being able to catch the first rays of sunlight. In the distance, the red sun slowly rose above the sea surface, covering Mui Yen with a magnificent layer of golden light.
Ta Cu Mountain
Ta Cu Mountain is located along Highway 1A in Thuan Nam town, Ham Thuan Nam district, 28km south of Phan Thiet city, is a climbing place, an interesting landscape of Binh Thuan province with a peak of 649m compared to with the sea. The scenery here is pristine, wonderful with identical mountains, looming ancient temple roof hidden behind the trees.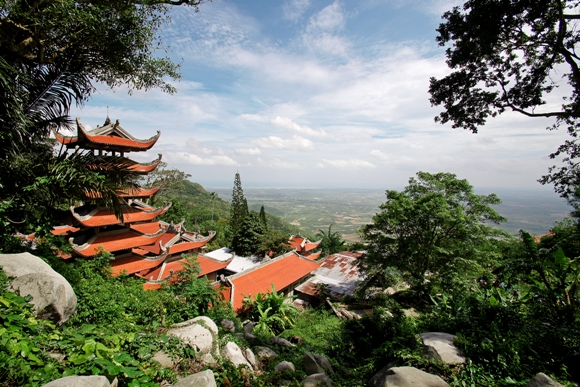 There are two ways to go to Ta Cu Mountain. One is to follow more than 1,000 steps, taking nearly 3 hours to climb the mountain. This plan is often carried out by adventurous and good health travelers. The second way only takes 15 minutes to be present at the top of both fast and convenient cable car. Sitting on the cable car, in addition to not having to spend any sweat, visitors also enjoy the feeling of surfing on the top of green um trees, wild trees blooming red flowers ... watching the immense green forest. .
On the top of Ta Cu Mountain, there are two famous temples, Linh Son Truong Tho and Long Doan Pagoda, where there are statues of Shakyamuni Buddha and Nirvana Buddha in a reclining position, knees on hands, back against mountains. This reclining Buddha image is considered to be one of the largest in Southeast Asia and has unique architectural and artistic values.
Ong Dia stone beach
Ong Dia Rock Beach is a beautiful, clear beach with rocky outcrops and rocky beaches protruding from the sea surface, in Ham Tien Ward, about 9–10 km from the center of Phan Thiet city.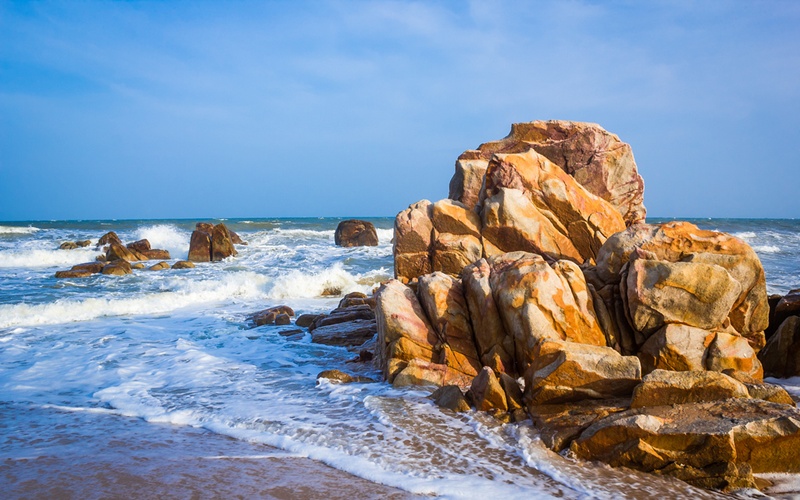 No one knows when this place name came from. Only one thing is for sure, this name was formed because there is a rock shaped like Mr. Dia sitting looking at the mainland. This rock is formed from nature. At first, a few people living here thought that this was the "Ong Dia" gift from heaven, they started making incense, lighting incense to pray for good fortune and expensive trade.
Experiencing many ups and downs of the fluctuations of time as well as the erosion of the waves, Ong Dia Rock is now no longer intact as it used to be but with a genuine belief that has been there for a long time, the people here have rebuilt their worship. and sculpting Mr. Dia's statue makes anyone who visits feel the sincerity of the people of the sea.
Cam Binh Beach - La Gi
Located close to Highway 55, Cam Binh - La Gi beach is one of the new tourist attractions. This is a very convenient stop for tourists traveling from Ho Chi Minh City, Vung Tau on the road towards Phan Thiet city.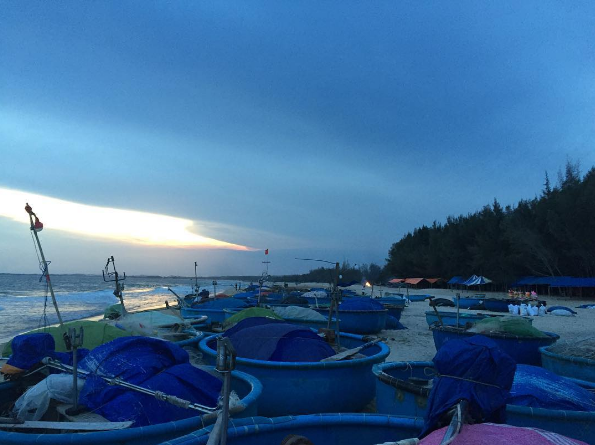 Many people liken the blue sea to La Gi as the girl just woke up. The coast is long and bends like the waist of a soft and lovely girl. The blue sea was clear, rippled like a long hair. Coming to La Gi, waiting for the cool sea breeze makes us forget the daily tiredness in the lavish town.
Poshanu Cham Tower
Poshanu Tower is located on Ba Nai hill, Phu Hai ward, 7 km northeast of Phan Thiet. Poshanu Cham Tower is a group of remnants of ancient Champa Kingdom. Hoa Lai architectural style tower - one of the ancient art styles of Champa. Despite being small and medium sized, distilling the quintessence of architectural techniques and decorative arts of the ancient Cham people to create a majestic and mysterious look.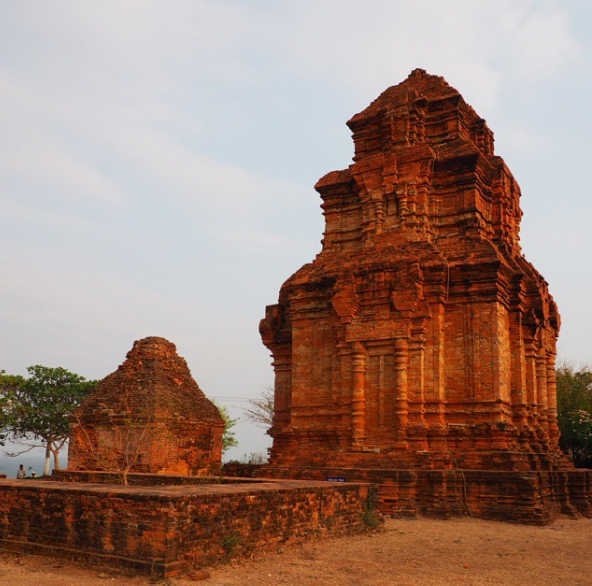 Hoa Thang sand hill
Although not as high as in Mui Ne, the sand hill of Hoa Thang has many strange shapes and shapes. Among the sand dunes in Hoa Thang, the sand dune named Trinh Nu is nicknamed the "first Vietnamese sand hill" by art photographers nationwide, because it is only a pure white color with slender shape. The impression of a young woman, inspired by the work of many photographers.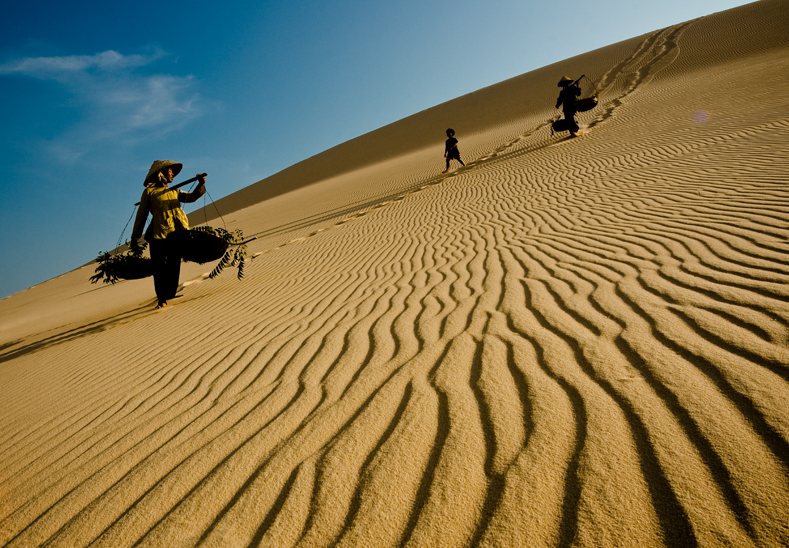 In the middle of the vast sand hill, there are two large beaches all year round, which is a very separate point, creating a poetic and charming natural landscape. Large water tank over 4km long divided into two sides: outside is Bau Ong long, long inside is Bau Ba wide ... with lotus flowers, waterlily blooming all year round. According to legend, these two buckets were formed during the Le Loi period, because the people here built dams for troops to pass through, which is favorable for the protection of the shores. Coming to Hoa Thang sand hill, in addition to camping, visitors can participate in games such as tug of war, fishing, attractive sand sliding, attracting all ages.
Forgotten Land Sand Statue Park
The Forgotten Land Sand Park is located on Nguyen Thong Street, Phu Hai Ward, Phan Thiet City, about 200m from Phan Thiet University. Opened from January 29, 2017, with an area of ​​about 1.3 hectares, the Forgotten Land sand statue park displays many artworks from 100% natural sand material in Phan Thiet and only with water mixing , in addition, no additives.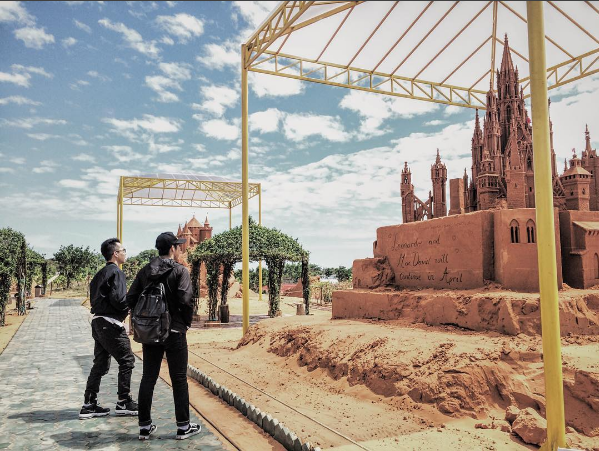 What is special is that the giant statues here are completed by professional sculptors from 12 countries such as the Netherlands, Canada, Brazil, USA, Japan ... that bring a lively look to the sand statues.
RD Wine Castle
Located at 706B Mui Ne, RD Wine Castle brings medieval architecture of Europe with a large square area, ancient arches but no less elegant, luxurious, towering towers. overlooking the fresh green space of Sea Links City. All images that seem to exist only in remote European and American countries are now reproduced at RD wine castle.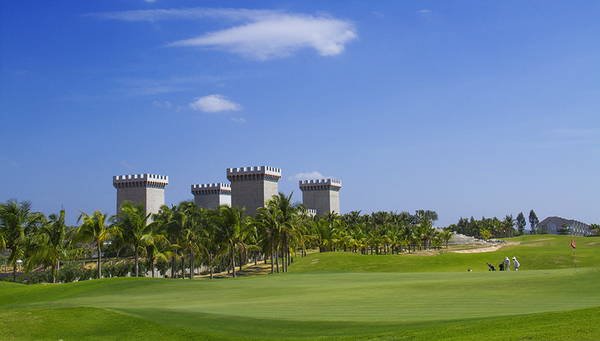 On a visit to the RD wine castle, you will be guided to visit 2 wine cellars with the closed production process and model designed deep underground. Besides, you can also enjoy some famous red wines from Napa Valley labeled Napa 55, Napa 66, Napa 77, Napa 88 or Napa 99.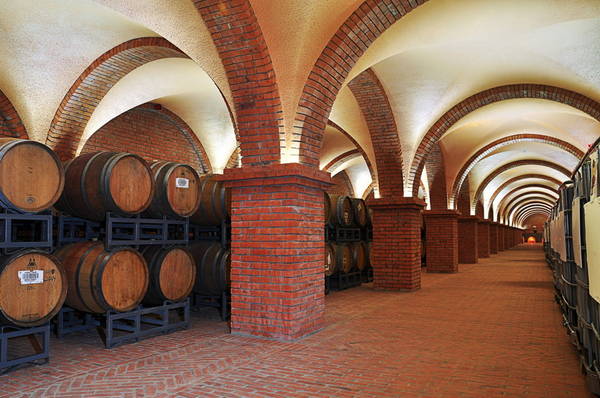 Outside the castle, the image of a grape farmer is solemnly placed on the sand hill as a reminder of the distant history of the Napa Valley viticulture and winemaking industry. Cabernet Saugvinon, Syrah, Chardonnnay grape varieties ... were also planted around the castle to introduce to visitors the materials that make the famous wine lines of this valley.
Son My Beach camping site
Son My Beach campsite in Son My commune, Ham Tan district is also a beach-style beach, outdoor picnic with pre-built tents on a fine white sand beach at the end of the beach. There are more than 20 tents of all kinds, from large to small, from individual to collective with prices from 75,000 to 150,000 VND / person. An extremely reasonable price and also comparable to the area nearby. This is also the type of outdoor camping that is currently loved by many young people because it saves a lot of costs but can also be close, enjoying nature, sun and sea around you.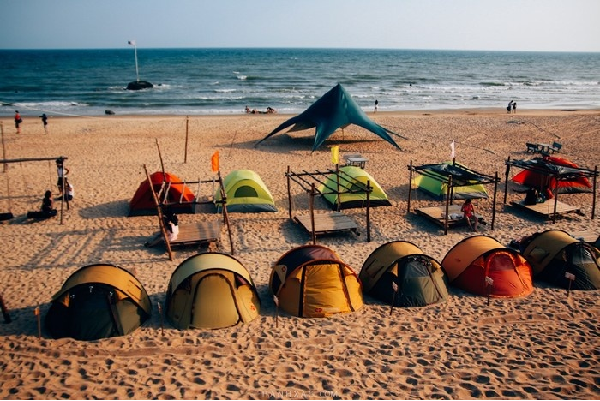 LU Glamping
Located city. Phan Thiet more than 30km, Lu Glamping (Ke Ga village - Tan Thanh commune - Ham Thuan Nam district) is a new picnic camping, suitable for those who love the sea. With an area of ​​4 hectares adjacent to the beach, Lu Glamping is designed with many areas to serve separate spaces for all ages, such as families, young people, couples, companies ... especially your favorite backpacker.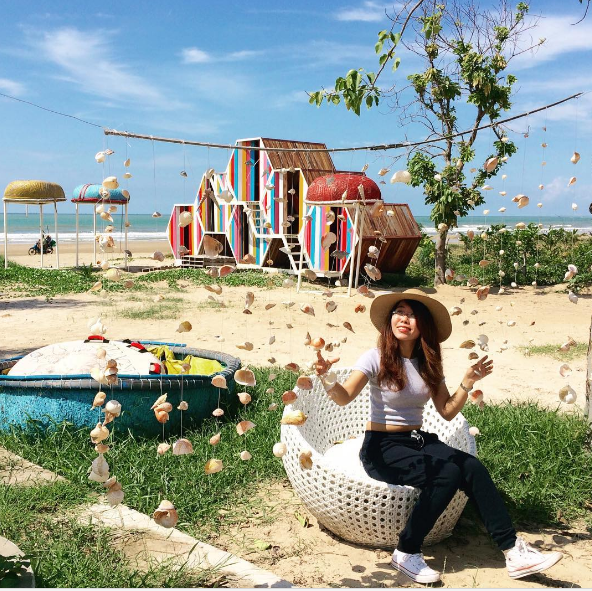 The most attractive thing to Lu Glamping is the unique honeycomb cocoon housing located close together, made from trash wood. With an area of ​​about 3m², in each honeycomb cocoon arranged a mattress to fit 2 adults and other necessary items, will be an ideal place to sleep for those who love to explore. If you want to find a secluded, quiet space, the colorful tent system is located close to the beach will bring extremely interesting feeling. Recline here, you can freely breathe the sea breeze, listen to the waves, feel every breath of the immense sea and forget all sorrow.
Coco Beach Camp
If you are tired of resorts, expensive luxury resorts, try Coco Beach Camp in Lagi Beach, Binh Thuan. Camping style beach ... style carefully, clean and comfortable will be a great choice for young people who want to try a night sleeping on the beach without being too uncomfortable due to lack of electricity, water like those Other campsites.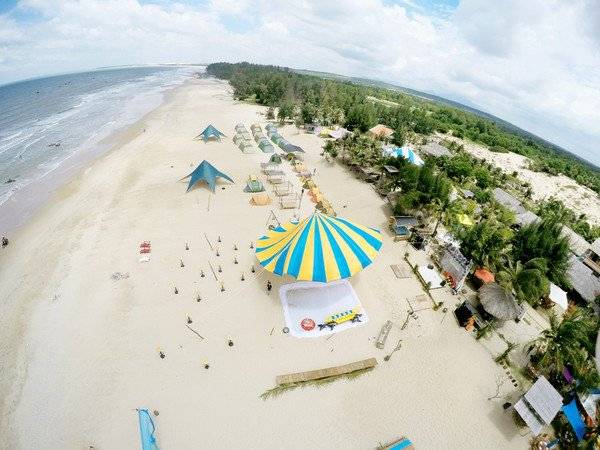 The best thing about camping by the beach is to really enjoy the smell of the sea, understand how beautiful the night sea is, and at Coco Beach Camp you can experience all of it. In addition, it offers a lot of game services such as surfing, sailing, volleyball ... so if you go in small groups or large groups, you will not be afraid of missing laughter or common activities.
You can visit the website: www.happygotravel.vn for details of Binh Thuan tours
CHILDREN PRICES (for Reunification Express Train only)
• Under 3 years: Travel free
• From 3 to under 9 years old (and shorter than 1.3m): Price will be 75% of adult price for the North - South trains and and vice versa.
But for Tourist trains such as Hanoi - Sapa and vice versa, no children ticket are offered. they have to buy full tickets like the adults!
• Over 9 years old: 100% of adult price.
BAGGAGES
• Carry-on Bags: The train cabins are allowed to carry baggages which do not exceed the weight limitation of 20 kgs of adults and 10 kgs of children. This baggages must be wrapped neatly and reliably