Train from Nha Trang to Da Nang
Description
• The railway from Nha Trang station to Danang station is about 524 Kilometers. There are 6 trains including SE2, SE4, SE6, SE8, SE10 and SE12 (which belong to Reunification Express train) on this route. They daily depart and take about over 9 to 10 hours (From Nha Trang to Danang or return). The seat types include the hard seat, the soft seat, hard berth (6 berths in a cabin) and the sort berth (4 berths in cabin) - From Soft Seat type to Soft Berth type, all carriages and cabins are air-conditioned with the comfortable seats/berths.
Nha Trang railway station :
Address : 17 Thai Nguyen, Phuoc Tan District, Nha Trang City
Danang railway station :
Address : 791 Hai Phong street , Thanh Khe District , Da Nang City
12 tourist destinations Danang - Hoi An can not be ignored
1. Ngu Hanh Son
Ngu Hanh Son mountain belongs to Hoa Hai ward, Ngu Hanh Son district, 7km from Da Nang city, including 5 rocky mountains: Kim Son, Moc Son, Thuy Son, Hoa Son, Tho Son - making visitors think of the island cluster. rockery emerges around the sandy dunes, wide and wide, swept all year round.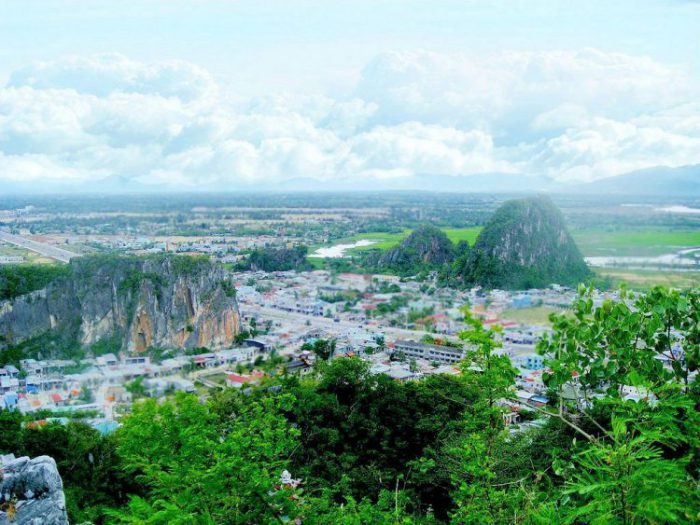 Normally, visitors come here to big mountains such as Thuy Son, visit Huyen Khong, Linh Nham, Van Thong, Lang Hu, Van Nguyet and Tam Thai pagodas. At the foot of the Marble Mountains are sculptures made of stone by artisans in Non Nuoc stone carving village.
2. Ba Na Hills
Located in Hoa Ninh commune, Hoa Vang district, Ba Na mountain is 40km southwest of Danang. With great ecological values, Ba Na mountain is a national nature reserve. The mountain is 1,489m above sea level. Here, visitors can feel 4 distinct seasons on the same day: spring - morning, summer - noon, autumn - afternoon, winter - evening. In Ba Na, the weather is always dry, rarely rain, the average temperature is 18 degrees C.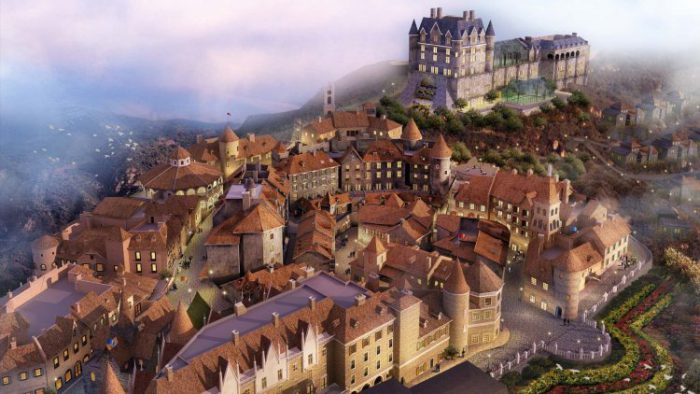 After taking the long and steep cable car, from the top of the mountain, tourists can enjoy the vast space from Da Nang city, the sea, to endless green fields. Currently, Fantasy Park - located in the resort area of ​​Ba Na Hills - with all amusement games suitable for all ages, from children with fun to youth, adults with Thrilling games. You can also find 3 food courts serving attractive European and Asian dishes and souvenir stalls with a variety of products.
3. Danang Golden Bridge
Built at an altitude of 1400m above sea level, the bridge has a length of 148.6m, divided into 8 spans, the longest span of about 21.2m. As a pedestrian bridge, Danang Golden Bridge possesses a width of 3m with a bridge material of 5cm thick wooden frame so you can freely play and dance. The special feature that makes the name is gold-plated stainless steel railing. Belonging to Ba Na Hills Resort, Cau Vang has caused a stir in the media during the past 2018.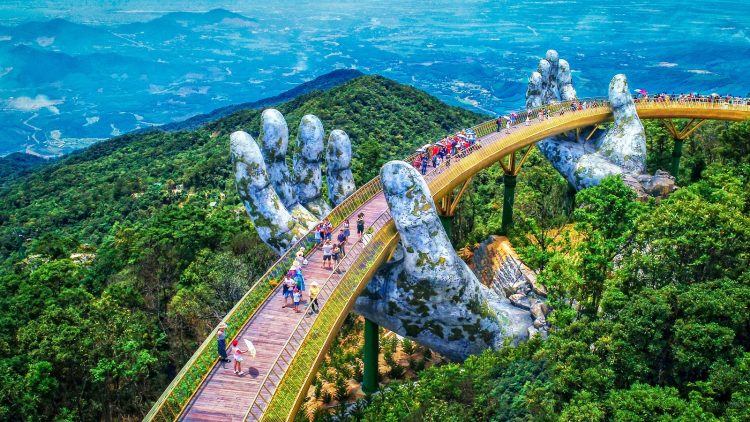 4. Son Tra Peninsula
This is a mushroom-shaped peninsula in Son Tra district, 10km from the center to the Northeast. Coming here, visitors will discover Son Tra old forest, swimming at Bai beach, My Khe beach, fishing with fishermen, visiting Tien Sa lighthouse, diving to see coral. In addition, you can also visit Linh Ung Pagoda - the pagoda like Son Tra peak with the statue of Buddha Shakyamuni in the middle and the Buddha Bodhisattva Bodhisattva on the right, the Tripitaka Buddha on the left with the four Dragon Gods. The dharmapalas and the 18 Arhat protect the main hall. Next to it, there is Mo stream, Toc Tien waterfall, and Nghê cape - the honor to welcome the first sunrise of Danang.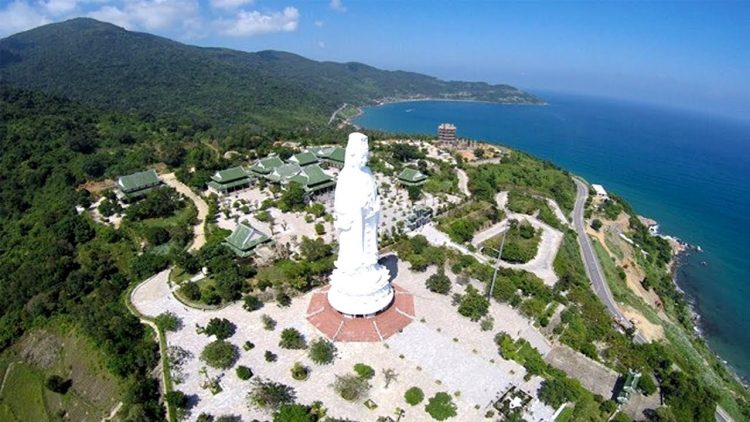 5. Hai Van pass
Located between the boundary of Thua Thien Hue province and Da Nang city is the Hai Van pass with a length of 20km, 500m high compared to the sea level. Hai Van Pass is famous for being the most beautiful and rugged pass road in Vietnam. From the top of the pass, visitors can admire the impressive scenery of Vietnam's extremely beautiful coastline. With the picturesque Lang Co fishing village, Son Tra peak covered with clouds all year round, the faded white sand of Non Nuoc beach, ...
6. My Khe beach
Forbes magazine voted this as one of the 6 most attractive beaches on the planet with a length of 900m and white, smooth and dreamy sand beach in July 2013.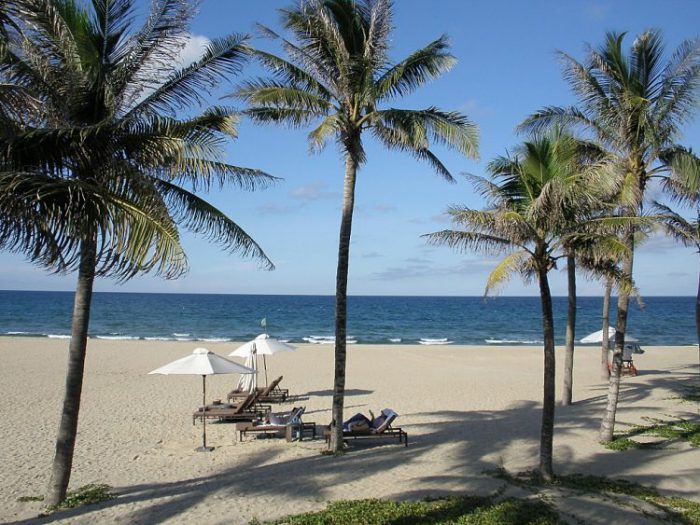 Especially, visitors who love sports activities can also participate in diving, fishing, windsurfing, canoeing, beach soccer ... When you come in the summer, there are always social activities. Annual themed culture along the beach axis. With a professional team always sitting on a hut or basket boat on the beach, you can feel secure in the sea from 5 am to 20 pm daily. My Khe Beach is not too far from the center so it is very convenient for travelers to travel. This is one of the most beautiful beaches in Vietnam, belonging to 12 Da Nang tourist destinations not to be missed in 2019.
7. Hoi An Ancient Town
30km from Danang, Hoi An - in the territory of Quang Nam province - was recognized by UNESCO as a world cultural heritage in 1999. Hoi An Ancient Town is preserved intact, making it attractive to visitors. The old houses have been built for hundreds of years with yellow painted walls, the narrow streets will take you lost in a nostalgic space, away from the noisy town.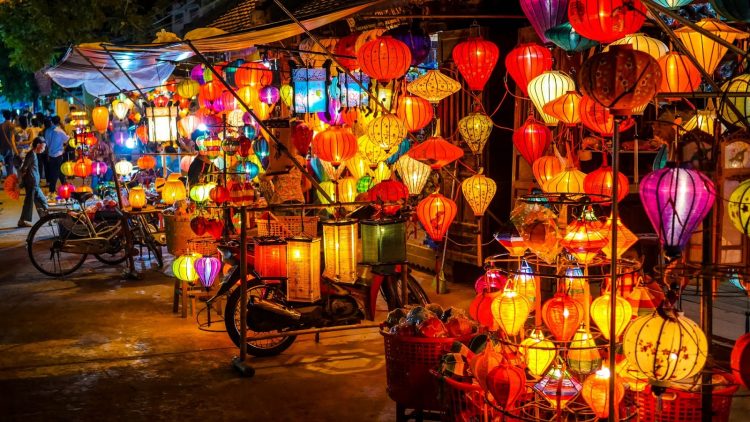 When night falls, the scenery of Hoi An ancient town becomes more and more sparkling with houses lit by thousands of colorful lanterns. Don't miss the chance to take a stroll down the bustling streets and indulge in all the folk food of Hoi An! In particular, visitors can drop the flowers and wishes, and sail on the Hoai River to feel all the beauty of this ancient city.
8. Hoi An Impressive Park
Just a 5-minute walk from the ancient town of Hoi An, Impressive Hoi An Park is located in the middle of the poetic Hoai River, famous for its ancient architectural space recreated from 5 ancient Hoi An villages. With unique architectural features, Hoi An Impressive Park attracts many tourists each year. In addition, the park also has many other interesting activities, spread throughout the park are 18 attractive mini shows, recreating the old stories.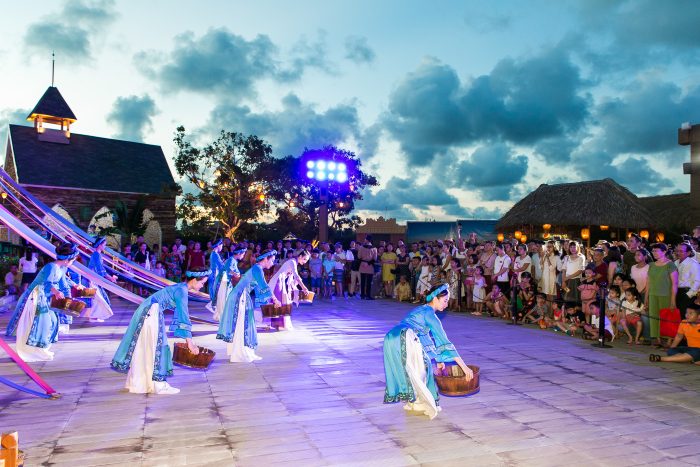 The blushing, fluttering red-cheeked girls in their brilliant peach silk outfit are the attractive spots when visiting the park. The final highlight of the park is the "World's Most Beautiful" show at 7pm every night. Come to experience the pride of any nation!
9. Han River Bridge, Dragon Bridge, Thuan Phuoc Bridge
Fire Dragon Bridge is waiting for every weekend night, Tet holiday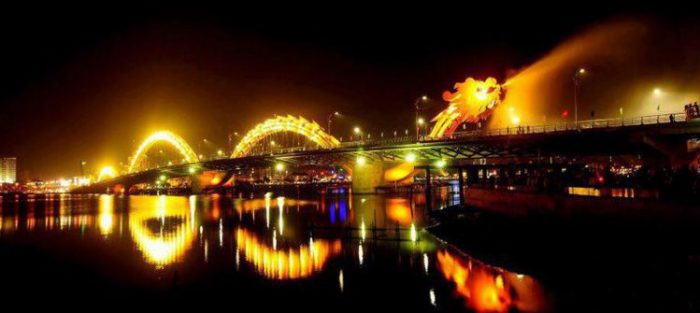 When the street lights up, you will be extremely impressed with the beautiful scenery of the bridges spanning the Han River. Guests will buy a boat ticket to see the brightly lit bridges: Thuan Phuoc Bridge, Dragon Bridge, Song Han Bridge, Tien Son Bridge within 60 minutes with cool breeze. In addition, Dragon Bridge spewing fire, water at 7pm every Saturday, Sunday and major holidays is the most awaited event when traveling to Da Nang.
10. Japanese Covered Bridge
Japanese Covered Bridge is a place that most tourists visiting Hoi An visit. The pagoda crosses a small creek flowing into the Thu Bon River, built by Japanese merchants here in the 16th century. Covered Bridge is 18m long, has a roof of yin and yang, the main entrance to Cau Pagoda is Lai Van Kieu Beach. written in Chinese characters, translated as. At both ends of the bridge, there are dog statues and monkey statues standing there. Covered Bridge is considered a symbol of Hoi An, the image of this project appears on the back of the 20,000 VND bill.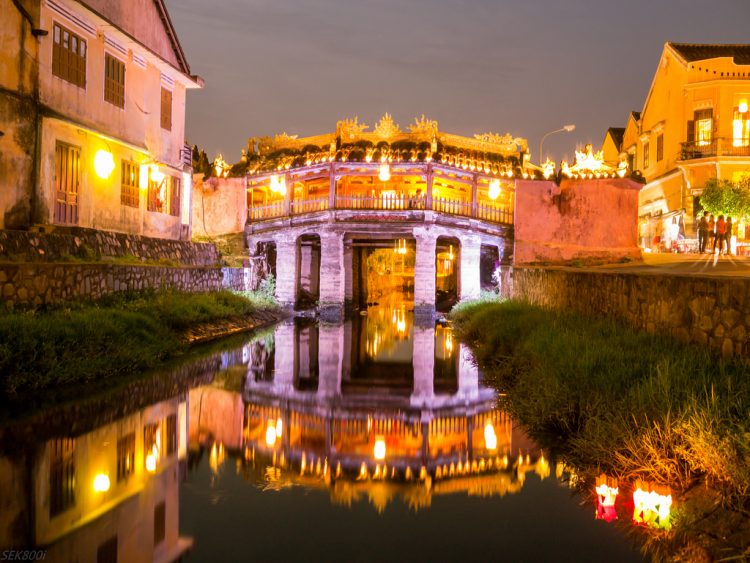 11. Nui Than Tai mineral spring park
At Than Tai Mountain hot spring park, visitors will be immersed in the majestic nature with the immense primeval forests of Ba Na Nui Chua Nature Reserve and streams. Only here can you feel the heat of mineral water and the coldness of the watershed truly clear.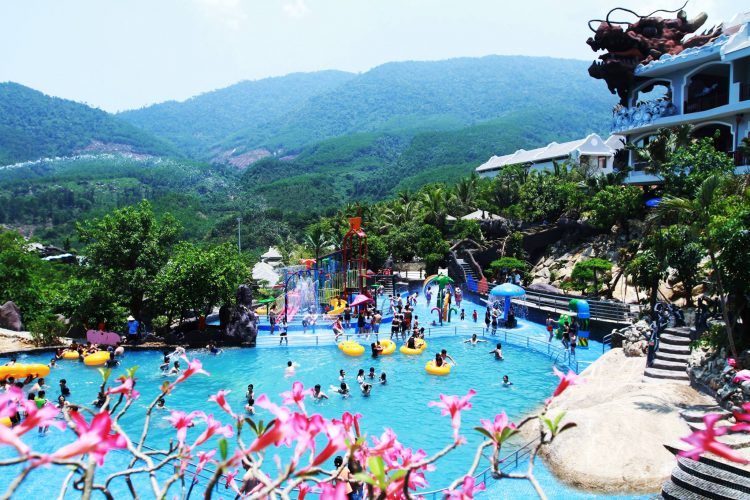 12. Bridge to lock the love
Last but not least, Rainbow Love is one of the 12 tourist destinations in Danang that cannot be missed in 2019. Located at the beginning of Dragon Bridge, on Tran Hung Dao Street, Son Tra District, Love Bridge is a place. Da Nang tourist destination is built as a marina, an ideal place for couples in particular and all tourists in general.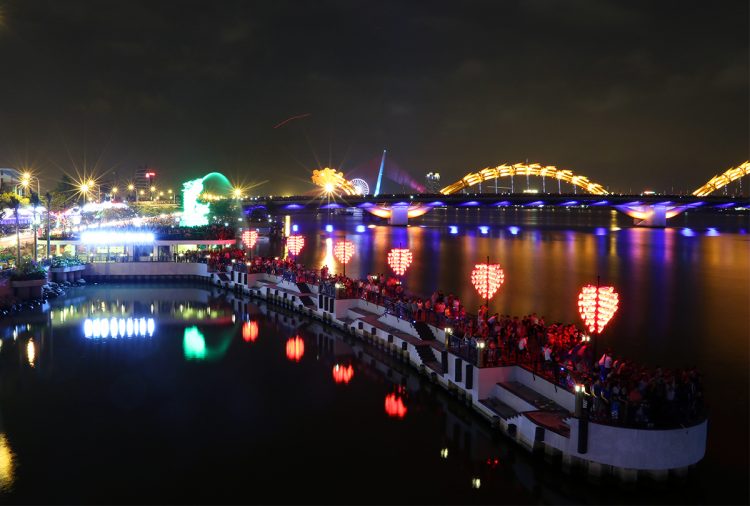 In particular, people who come to ask for this love do not have to buy tickets. The bridge has an arc shape of 68m long, 6m wide, facing the middle of the river. Standing at the bridge, visitors can admire the beauty of the Han River. In the evening, hundreds of heart-shaped red lanterns are lit, lighting down the water creating a very romantic scene. To those who have never been to Danang, or who have visited a few times, if we miss a place, then let's ezCloud again, this year, right now, carrying a backpack. Come on and book a ticket to Danang now!
You can visit the website: www.happygotravel.vn for details of Da Nang tours
CHILDREN PRICES (for Reunification Express Train only)
• Under 3 years: Travel free
• From 3 to under 9 years old (and shorter than 1.3m): Price will be 75% of adult price for the North - South trains and and vice versa.
But for Tourist trains such as Hanoi - Sapa and vice versa, no children ticket are offered. they have to buy full tickets like the adults!
• Over 9 years old: 100% of adult price.
BAGGAGES
• Carry-on Bags: The train cabins are allowed to carry baggages which do not exceed the weight limitation of 20 kgs of adults and 10 kgs of children. This baggages must be wrapped neatly and reliably.