Train from Dong Hoi to Ho Chi Minh
Description
• Vietnam-Railway.com sells train tickets for trains travelling from Dong Hoi to Ho Chi Minh city. There are 6 trains including SE1, SE3, SE5, SE7, SE9 and SE11 The average travel time is about 23 to 24 hours with 1,204 Km.
• Dong Hoi station located at Dong Hoi city, Quang Binh Province.
• Saigon Station located at 01 Nguyen Thong street, District 3. Ho Chi Minh city.
Places to visit Saigon cannot be missed
1. Independence Palace (Reunification Hall)
Located at 135 Nam Ky Khoi Nghia Street, the Independence Palace is an architectural work that goes into the history of the nation. During the resistance war against the US to save the country, this was the workplace of the government of the Republic of Vietnam government. After the liberation, this place is classified as a special national monument.
This work is designed according to Feng Shui and architecture of the Orient but is no less modern. Visiting here, visitors will admire the first-hand items from the old regime with many evidence marking the independent moment on April 30, 1975.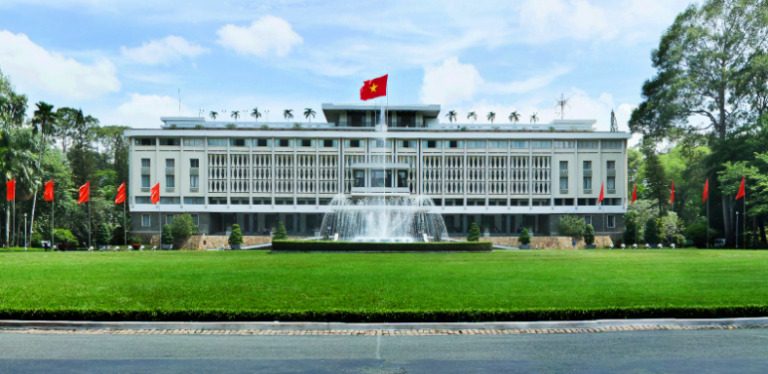 Currently, on the occasion of 30/4 or 2/9 every year, thousands of people flock here to visit as well as to commemorate the heroes who have fallen for national independence.
2. Notre Dame Cathedral
Located on the main street of the city center, Notre Dame Cathedral is one of the symbols of Saigon City. This cathedral features European architecture combined with beautiful Roman and Gothic styles and has the largest bell in Vietnam. Notre Dame Cathedral is an important cathedral of Saigon diocese and the pride of the people of the city.
Notre Dame Cathedral is a famous tourist attraction in Saigon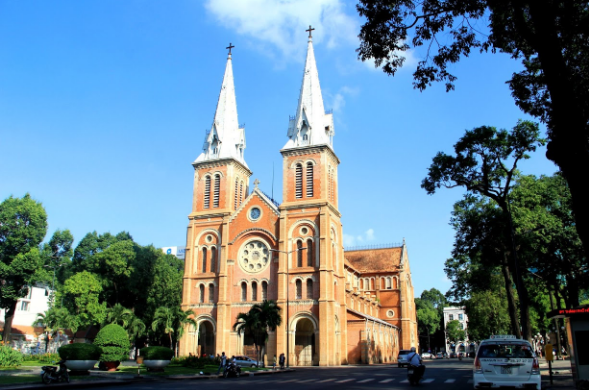 Besides, the area around the church is also the most beautiful landscape in Saigon. In particular, around here is a 30/4 park, a fun spot in Saigon at the very famous evening.
3. Ben Thanh Market
Ben Thanh Market is located in the heart of the city, all 4 doors facing the main roads such as Phan Chu Trinh, Phan Boi Chau and Le Thanh Ton, the other direction is Quach Thi Trang Square. If you are a fan of shopping, write to the list of places to visit Saigon immediately!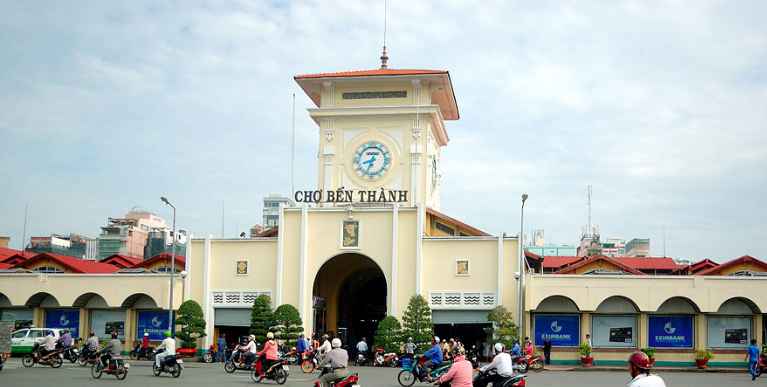 Inside the market, there are enough traditional and modern items to make as gifts for family and friends. Ben Thanh Market is also one of the ideal places to enjoy traditional Vietnamese food. Stop by food stalls with local specialties like fried fish or sip a few refreshing iced teas. One note is when shopping here, you should wear to get the best price.
At night, around the market becomes more bustling with clothing stores, busy restaurants.
4. Suoi Tien tourist area
Suoi Tien is also a place of cultural and historical education through sightseeing places built on the ideas of legends, myths of the nation and the ideology of the Orient.
The famous amusement areas here can be mentioned such as: Magic Castle, Treasure Cave, Roller Coaster, Tien Ngu Palace, Aquarium, Tien Dong Ngoc Nu Sea ...
5. Nguyen Hue walking street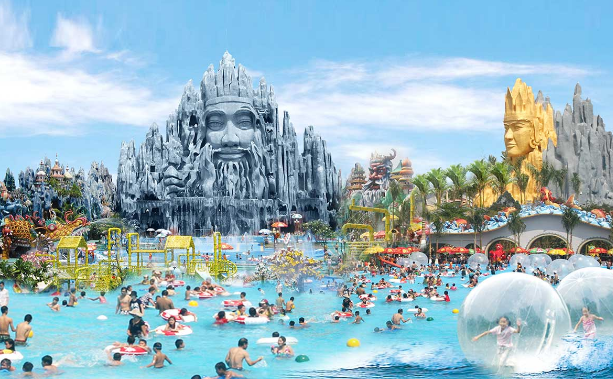 Nguyen Hue Walking Street is an indispensable name in places to visit Saigon. Built in April 2015, is 670m in length and 64m in width. Creating the heart of Saigon, a striking pedestrian street with granite foundation, two large fountains, many trees and a modern sound and light control system.
In the evenings and weekends, people and tourists often come here to take a walk and enjoy the vibrant atmosphere. Along the two streets are stalls selling specialty of Saigon such as broken rice, coffee, bread, tea ...
This street is also a fun place to play in Saigon at night and is a favorite place of the virtual saints!
6. Vietnam History Museum
Vietnam History Museum was built in 1929, its predecessor is the Blanchard de la Brosse Museum. Visiting here, you will admire, learn about tens of thousands of valuable artifacts. In addition, the museum also has over 25,000 books and precious documents for archeological and historical research, museum, ethnography ...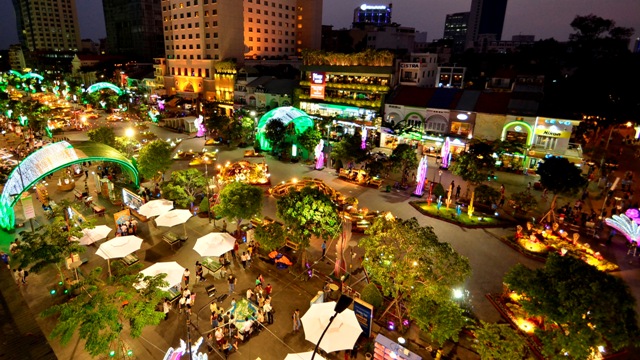 In addition, there is also an intact mummy, attracting the attention of many tourists.
7. Cu Chi Tunnels
TP way. Ho Chi Minh City about 70km northwest, this is a map of the transformation of troops and people of Cu Chi during the resistance war.
Cu Chi Tunnels make visitors admire because the work is deep in the ground, with many niches like spider webs, many floors, with accommodation, meeting and fighting with a total length of more than 200 km.
Ben Dinh Tunnels: belong to Ben Dinh hamlet, Nhuan Duc commune, Cu Chi district. To get here, visitors can take bus number 4 from Ben Thanh to Ben An Suong, then catch the car number 122 from An Suong station to An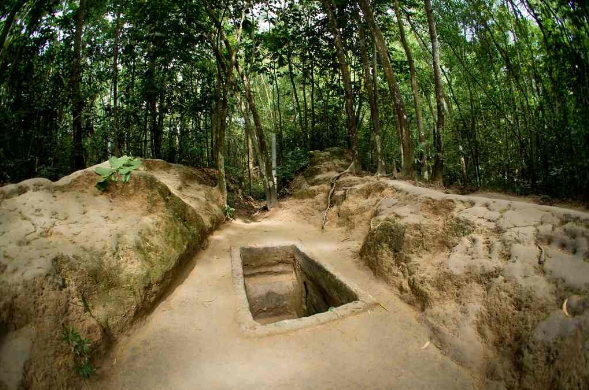 Nhon Tay.
Ben Duoc Tunnels: now belongs to Phu Hiep Hamlet, Phu My Hung Commune, Cu Chi District. Tourists can take routes 13 and 79, take bus number 13 from Ben Thanh to Cu Chi bus station, then take bus 79 from Cu Chi bus station to Ben Duoc.
8. Starlight Bridge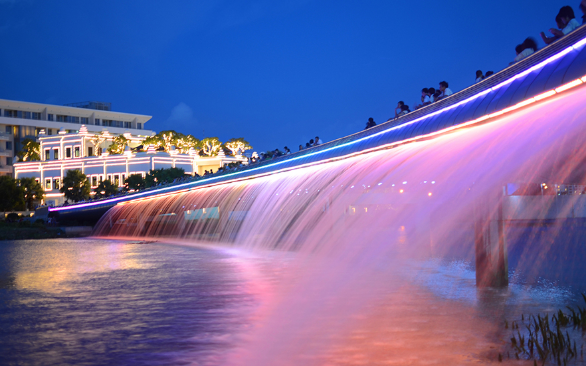 Starlight Bridge is a fun place to play in Saigon at night. A bridge between Ho Nguyet Lake and Dao Canal in Phu My Hung urban area. This is known as the most beautiful bridge for pedestrians in Saigon.
The bridge is designed with a sprinkler system that is a 7-color LED light on both sides of the bridge, making it feel like you're walking on the galaxy. Not only that, the two sides of the bridge also has a large square, designed to follow the moon and the sun.
You can visit the website: www.happygotravel.vn for details of HCM tours
CHILDREN PRICES (for Reunification Express Train only)
• Under 3 years: Travel free
• From 3 to under 9 years old (and shorter than 1.3m): Price will be 75% of adult price for the North - South trains and and vice versa.
But for Tourist trains such as Hanoi - Sapa and vice versa, no children ticket are offered. they have to buy full tickets like the adults!
• Over 9 years old: 100% of adult price.
BAGGAGES
• Carry-on Bags: The train cabins are allowed to carry baggages which do not exceed the weight limitation of 20 kgs of adults and 10 kgs of children. The baggages must be wrapped neatly and reliably.